This has been one of the strangest weeks of my life. I'm not even sure I could describe it if I wanted to. That said, I've noticed all over the internet everyone doing their daily Thank yous….for the Month. Here's my feelings about that. I am so thankful…for so many things…in so many ways. I couldn't contain it to one month. Even though if you asked me at this moment what I'm thankful for…I would probably say Valium! lol Not really…but it is tempting.
I decided tonight that I would write about a post I did…probably about this time last year. About a my obsession with Junk and the many odd things I do with it. Since I'm teamed up again with the wonderful Throwback Thursday group…I chose that. I decided I was going to reintroduce my rake…and let you check out the many uses I found…besides leaves to use this baby for. So I'm throwing in a picture…and you can link up…then you can check all the odd ways I use a rake around my house. Some of them you may have seen….by I'm willing to bet….no all. 😀
So…Y'all get busy…and party on! If you don't blog…you can really soak in the awesomeness that linky parties provide. All this talent…on one page.
Welcome to our Throwback Thursday Linky Party!!!
Last week was another great success with lots of fabulous projects from the past.
Thank you to everyone who joined the party last week!
AS A REMINDER: TO BE FEATURED YOUR POST MUST BE OLDER THEN 30 DAYS!!
Otherwise link up what you would like.
And, Please no ETSY links.
Now onto this week's featured posts!
Please pin from the original source so that each blogger gets credit for her work.
Denyse's Pick:
Vertical Garden by KCL-IDESIGNS
Jenn's Pick:
Plate Pedestals by Mitzi's Miscellany
Shanna's Pick:
Thrifty Bargains by DIY Beautify
Paula's Pick:
Quick Cute Gift Wrap by Kraft & Mint
Alli's Pick:
Turkey Shirt by Artsy Fartsy Mama
Laura's Pick:
Living room Wall Unit by The Interior Frugalista
Posting to our party means you are giving us the right to post your project and photos and promote via social media ~ links will be pinned to our Party Board throughout the week and can be seen here
If you've been featured grab a button.
Now are we ready to dig in our archives again??? Don't forget to follow all the hosts of the party!!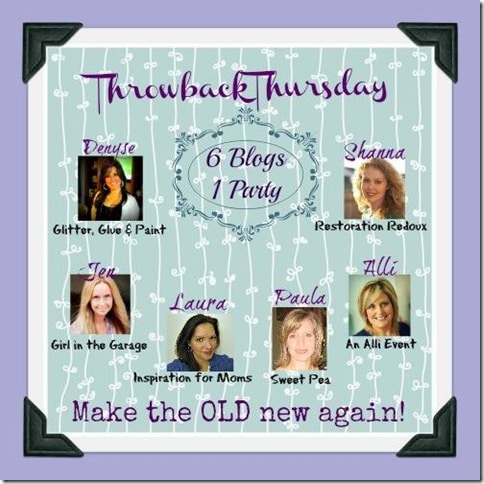 Denyse @ Glitter, Glue & Paint – Facebook |Pinterest | Twitter | Instagram | Hometalk
Jen @ Girl in the Garage – Facebook | Pinterest | Twitter | Hometalk
Shanna @ Restoration Redoux – Facebook | Pinterest | Twitter | Instagram | Hometalk
Paula @ Sweet Pea – Facebook | Pinterest | Twitter | Instagram | Hometalk
Alli @ An Alli Event – Facebook | Pinterest |Instagram
Laura @ Inspiration for Moms – Facebook– Pinterest– Twitter
This weeks guest host is:
Tammy @ Deja Vue Designs – Facebook – Pinterest –Twitter